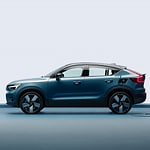 Whether driving around Knoxville or far from home, staying safe and connected while on the go is probably important to you. Today's automotive technology allows drivers to stay in touch by phone or text, navigate unfamiliar areas with GPS and access their favorite music or podcasts. Technological advances even make driving easier to manage with smart driver assist capabilities. You won't want to miss these 2023 Volvo C40 Recharge technology features.
Google comes built-in on this all-electric vehicle with best-in-class navigation, hands-free Google Assistant and Google Play accessibility. Volvo's digital services package gives you even more convenience with remote services through the Volvo Cars app.
The C40 Recharge offers a host of available assisted safety features to provide added security. Options like blind spot information system, cross traffic alert with auto brake and lane assist allow you to drive with confidence.